Terroir : MADAGASCAR
The MAVA PLANTATION, agroforestry in images...
It all happens in the Sambirano Valley, a natural haven for cocoa farming since the 20th century. The valley is sheltered from the wind and lies on soil enriched by alluvium drained by the river of the same name. Almost 90% of production comes from the area between the hills, where what's left of the old-growth forest still stands, and the tall shade trees that protect the plantations.
That's where we met Thomas Wenish, the director of the MAVA plantation where we buy our cocoa beans. Thomas reveals the secrets behind producing cocoa beans with images of everything from growing in the shade to fermenting and drying.
An exclusive report produced for Chocolaterie de l'Opéra. Thomas returned to his family in France after the pandemic. He carefully trained his replacement at MAVA and the techniques are still in place.
An exclusive and traceable sourcing
Nicolas de Loisy was won over by the outstanding cocoa beans produced here and signed an exclusive partnership with the Ambohimena Sud farm. It's one of 8 farms forming the MAVA plantation, a long-standing plantation covering almost 850 hectares and committed to a new form of sustainable agriculture. Some of its plantations are now farmed organically.
Chocolaterie de l'Opéra has been supporting the MAVA plantation in its sustainable vision for years by buying everything produced by the Ambohimena Sud to make Tannea chocolate with complete identification information for each batch of cocoa. Its flavour profile recently won a "Cacao Award".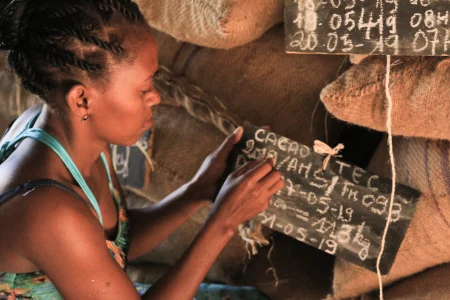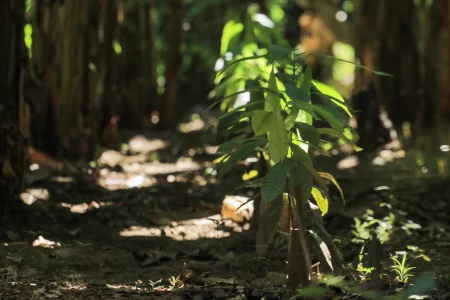 When banana trees unite with mighty trees for a sustainable culture
A huge amount of work has gone into replacing old cocoa trees with new more disease-resistant seedlings on the plantation. They are cherry-picked and grown in greenhouses before being planted under banana trees that provide shade as the trees grow in size and strength. Then their large branches take over to control temperature and humidity.
But what happens underground is even more interesting. The tall trees have deep roots that bring nutrients from the deep layers of soil up to the surface layers that the cocoa trees feed from. This man-made ecosystem avoids the use of fertilisers and pesticides. Regular pruning and weeding is required for maintenance.
The application of a strict post-culture treatment protocol
The MAVA plantation has spent years researching the best quality protocol for the harvest and post-harvest processes to ensure its cocoa beans have consistent subtlety and flavour. This involves best practices and assessment criteria that must be strictly applied. To sum up, only ripe pods can be picked. The mucilage is extracted by hand and sorted several times. It must be added to fermentation tanks within 4 hours. The beans are regularly turned over and monitored to cap any rise in temperature for 6 days. Last but not least, the beans are dried on large racks that take turns in the sun to avoid drying out too much and to lock in the Ambohimena Sud farm beans' signature aromas. This almost scientific process produces a wide range of aromas and the right amount of bitterness.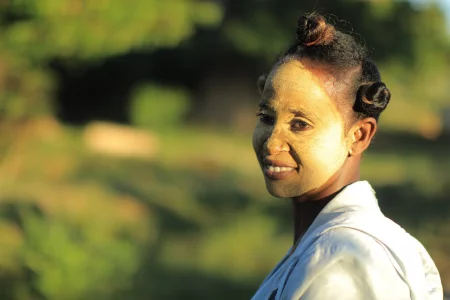 Valued women and a respected land
Growing in the shade is in line with sustainable cocoa production. The resulting ecosystem not only avoids having to use inputs but also combats deforestation. The MAVA plantation is involved in reinstating native species (banana, kaffir lime, pink peppercorn) and provides a safe habitat for countless animals and plants.
Child labour has long been banned at MAVA whilst women are given pride of place. From harvest and post-harvest processes to the final sorting, the women are in charge of the men and responsible for the standard of production. Overall, MAVA strives to train and support them to gain responsibility and independence.