Chocolate

Pures Plantations®

Dark
Dark chocolate CARUPANO 70%
Venezuela Barlovento & Carenero
Description
Carupano® 70% captures our expertise and was the first chocolate in the Pures Plantations range. It strikes the perfect balance between roasted cocoa and dried fruit aromas underpinned by woody almond notes.
Origin
Chocolaterie de l'Opéra only uses CARENERO Superior cocoa beans (a Trinitario hybrid). Its signature fruity, spicy and nutty aromas are complex and highly sought-after. It is grown mainly in Barlovento but is unfortunately even rarer.
Composition
Total cocoa
Cocoa butter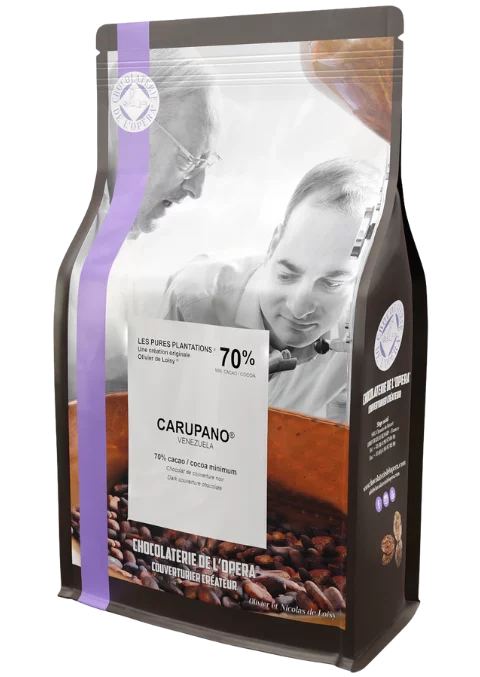 Aromas
Initial flavour: round with notes of roasted cocoa
Middle: notes of dried fruit
Finish: woody notes of almond and very cocoa-edged
Main sensations
Sugar : Low

Strength : Medium

Persistence : Strong

Accordance
Coconut, Hazelnut, Raspberry, Orange.
Best for
Decorating, moulding,
Coating, bars

Best before

24 months after production date.

Packaging

5kg bag / 20kg box 1,5kg bag / 15kg box

Allergens

Milk - Lactose - Soya - Oil/fat from soya entirely refined - Fructose - Suitable for vegetarians and vegans