Chocolate

Pures Plantations®

Dark
Dark chocolate GAYAS 64%
ECUADOR
Description
While its composition makes it suitable for all types of use, Gayas® 64% has been designed to perfect coatings. With a cocoa butter content of 37%, its fluidity gives a precise amber-brown coating. Its aromatic palette is cocoa-edged, with notes of honey, cooked fruit and soft spices.
Origin
A unique terroir with outstanding conditions for producing and protecting the famous category ASSS (Arriba Superior Summer Selecto) cocoa bean. Their floral and fruity notes elevated by woody aromas that won over the teams at Chocolaterie de l'Opéra®.
Composition
Total cocoa
Cocoa butter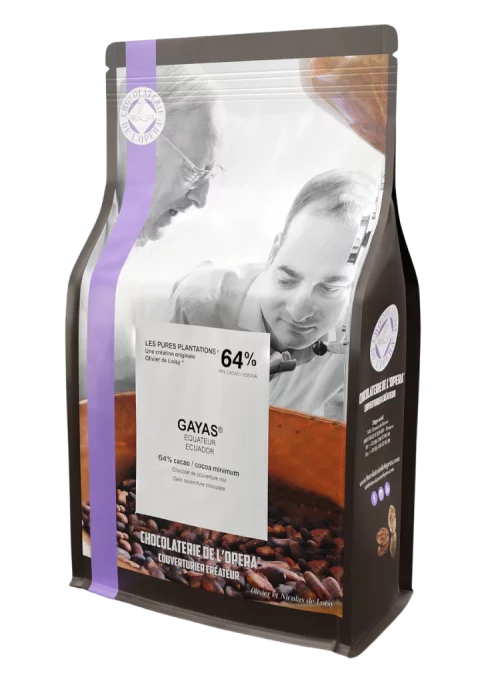 Aromas
Initial flavour: gentle and fresh.
Middle: cocoa-edged, notes of honey, cooked fruits and soft spices.
Finish: cocoa and sugar.
Main sensations
Sugar : Medium

Strength : Strong

Persistence : Strong

Accordance
Coconut, Raspberry, Hazelnuts, Orange
Best before

24 months.

Packaging

5kg bag

Allergens

Soya, may contain: milk. Suitable for vegetarians and vegans.