Chocolate

Pures Plantations®

Dark
Dark chocolate GAYAS 70%
Ecuador Cotopaxi
Description
Gayas® 70% unveils its dense structure with a fabulous flavour profile. The initial flavour is light before cocoa notes with a vanilla tone flood in, underpinned by hints of coconut and floral notes.
Origin
The Limon and Guantupi farms we work with belong to the 12 Tree company specialising in sustainable and socially responsible forestry and agroforestry systems. Almost 260ha of farmland on the foothills of the legendary Cotopaxi volcano. A unique terroir with outstanding conditions for producing and protecting the famous Arriba Nacional cocoa bean.
Composition
Total cocoa
Cocoa butter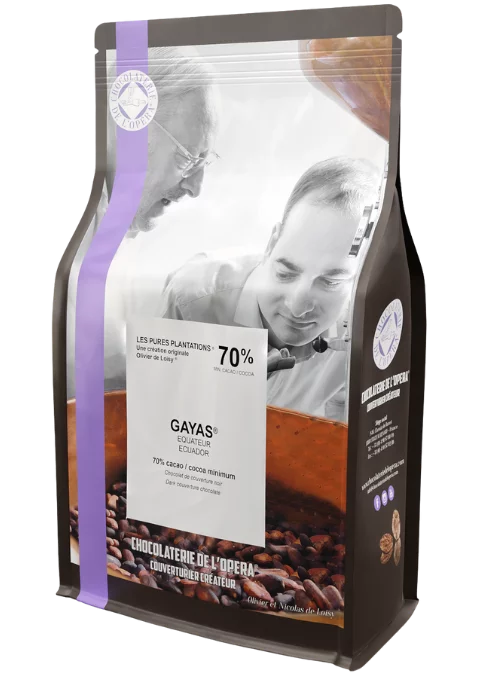 Aromas
Initial flavour: sweet with subtle vanilla cocoa-edged notes
Middle: a few touches of coconut
Finish: floral notes
Main sensations
Sugar : Medium

Strength : Medium

Persistence : Medium

Accordance
Apple, Almond, Lemon, Coriander.
Best for
Decorating, moulding,
Coating, bars

Best before

24 months after production date.

Packaging

5kg bag / 20kg box 1,5kg bag / 15kg box

Allergens

Milk - Lactose - Soya - Oil/fat from soya entirely refined - Fructose - Suitable for vegetarians and vegans