Chocolate

Pures Plantations®

Dark
Dark chocolate SAMANA 62%
Dominican Republic San Francisco de Macoris
Description
The 62% version of Samana 70% dark chocolate has the same aromatic notes (spicy and berry) but its lower cocoa butter content makes it ideal for making ganache and mousse.
Origin
Unlike major producers, the Dominican Republic has managed to hold onto its plantations' genetic roots. Since its marine soil, fewer chemical products are used meaning its cocoa production is among the purest in the world. An exceptional cocoa bean from the Trinitario plant and "Hispañola Superior" type grabbed the attention of Chocolaterie de l'Opéra.
Composition
Total cocoa
Cocoa butter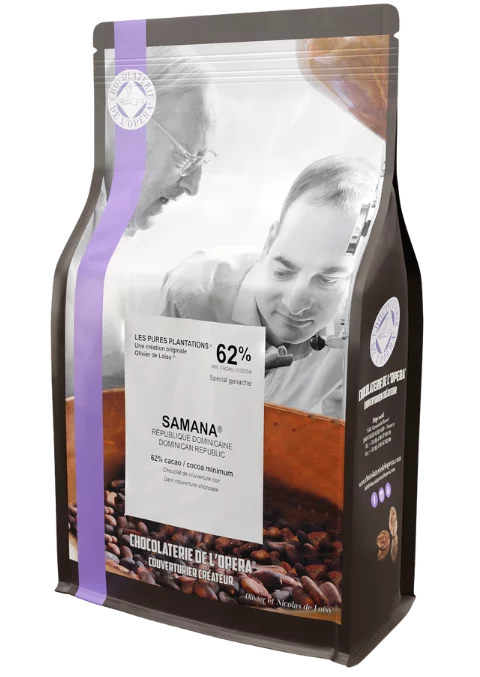 Aromas
Initial flavour: strong spicy notes
Middle: notes of ripe cherries and dried figs
Finish: low acidity and bitterness
Main sensations
Sugar : Low

Strength : Strong

Persistence : Low

Accordance
Orange, Cardamom, Red berries (blackberry, blueberry, raspberry).
Best for
Chocolaterie: ganaches,
Pastry: mousses, crémeux, biscuits,
Drinks, ice creams

Best before

24 months after production date.

Packaging

bag:5kg box:20kg / bag:1,5kg box:15kg

Allergens

Milk - Lactose - Soya- Oil/fat from soya entirely refined - Fructose - Suitable for vegetarians and vegans